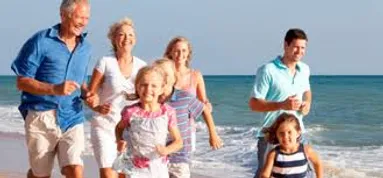 WHO DO WE TREAT? Everyone!
Since this is a family and cosmetic dental practice, we treat patients of all age groups and dental needs. Patients often are referred to our practice for one reason or another. What we have noticed is that usually after their first visit, children, parents, and friends soon follow!
At Spectrum Family Dentistry, our patients vary in ages. Starting from the young age of 1 year to the mature age of 100 years! Regardless of age, we have a great understanding of the mental and physical needs that is inherent within these age groups and make every effort to comfort and care for them as if they were family.
​For the past few years, we have had the privilege of treating patients from a local community nursing home. Even though patients of this age group present with challenges that are atypical of a regular family dental practice, we have been very successful at treating their dental needs. Understanding the dental and mental needs of geriatric patients is crucial and necessary in improving their oral as well as medical health.
​If you or a loved one has concerns about dental treatment at our office, please feel free to make a consultation appointment with Dr. Le and Staff so that we can answer all your questions.